Note: If you haven't read PART 1 of 8 Days in a Camper, you can find it here: PART 1
Attempting to set up the next few days is somewhat of a difficult task.  So I will have to break it up twice more. Part 2.  And... a Part 3.  Mostly because theres just so much to tell.  We did had a blast on the few days you are about to read. But for each incredible moment we had, there was something equally as awful to drag it down. 
Wednesday, July 25th. Sewage, Captain Augusta Rides Again, And the Night the Lights went out in Ela.
We awoke on Wednesday morning to the fresh smell of sewage just outside the window. I would try to describe it, but I will let the video and pictures tell the story. To color it up just a bit, I would like to add that the other 100 campsites with RVs, tents..etc all woke that  morning to the fresh smells of a beautiful meadow, daffodils in the breeze,  butterflies gently dancing in the air, and the fresh sounds of a mountain river delicately echoing into the campground.
Nope Not for us. Our campsite handyman had already called in the Cherokee Sewage Army. And they were prepared to battle what was bubbling up from underneath our camper.  Let me say...It wasnt any of our doing. We had yet to dump the contents of our camper. Not sure they really believed that, but it was true.  Whatever was coming out of that ground was something so horrible, so puzzling that the sewage army was totally at a loss for words.  They resorted to running a snaking tool into the large PVC pipes to try to break open whatever was clogging it up. This process went on for hours. I was going to try to cook breakfast for everyone with my handy dandy outdoor skillet, but the odor and funk was just not going to allow me to do this. Especially when the snaking tool pulled out the contents of solid waste along with crusty aged condoms that someone had flushed down along with towels that had been sitting in those pipes for who knows how long.  As they were pulling this mess out off the snaking tool, they kept glancing up at me as if I had stuffed these contents down the pipes! I made an effort to indicate that it wasnt me...or us, but by the "yeah, suuuure it wasnt yours" look in his eyes, i could see that I was just wasting my time.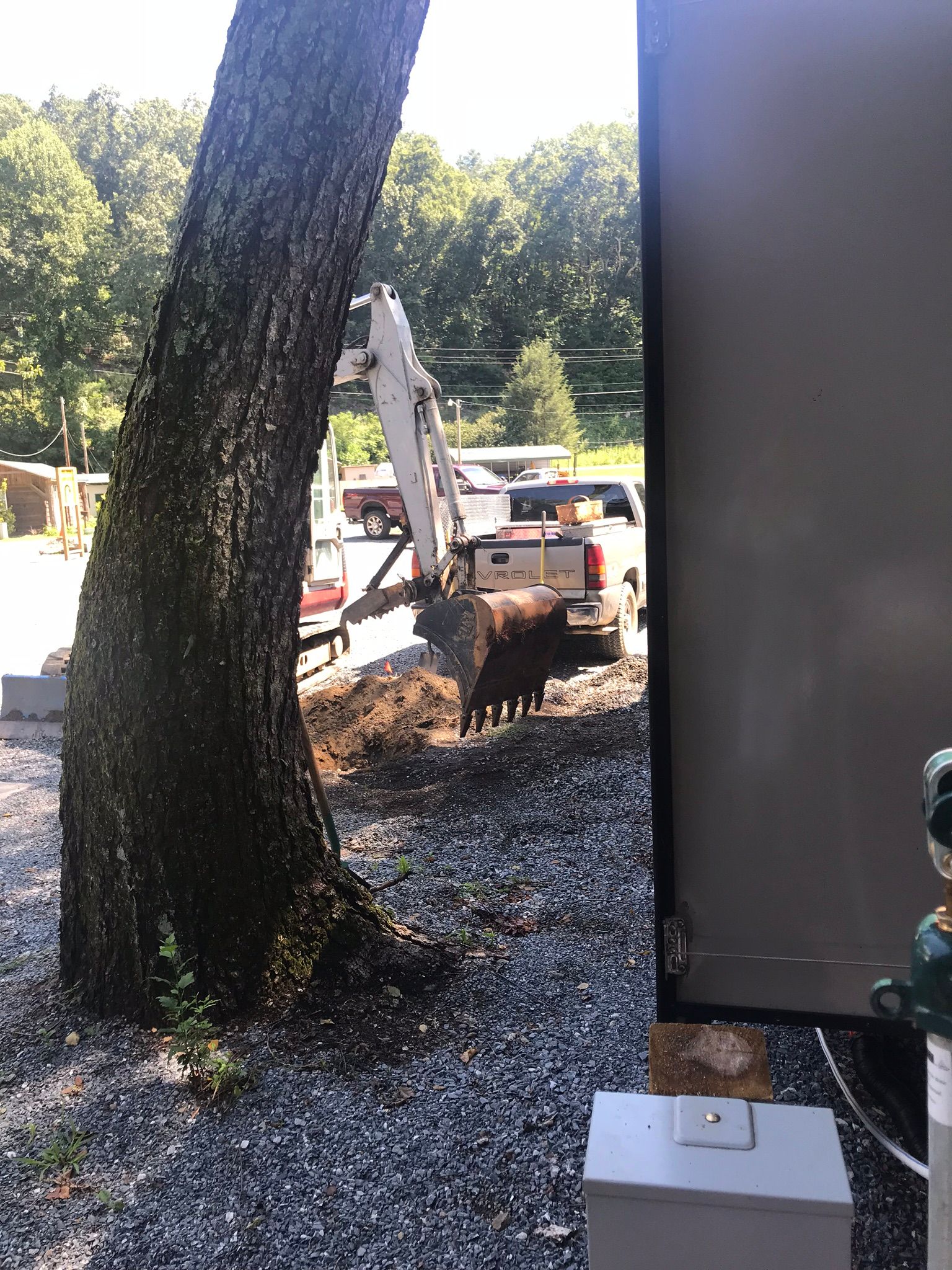 Finally after hours of probing with space aged technology, snaking tools, and maps of the property, they had discovered that there was a septic tank that they knew nothing about that existed just outside our window. Mr. Handyman had been there for 15 years and had no idea that septic tank existed until we arrived. 
Now, you know whats next.  If you've ever had a bubbling septic tank, there really only one thing left to do. And thats to dig that sucker up.  So The Great Cherokee Sewage Army began their archaeological dig at approximately 9:00 am.  Everyone in the campground was looking at us as if we had flushed a puppy or something.  Backhoes, shovels, pitchforks, onlookers, Hell...I think the Cherokee Channel 5 News crew was there ready to report our next mishap.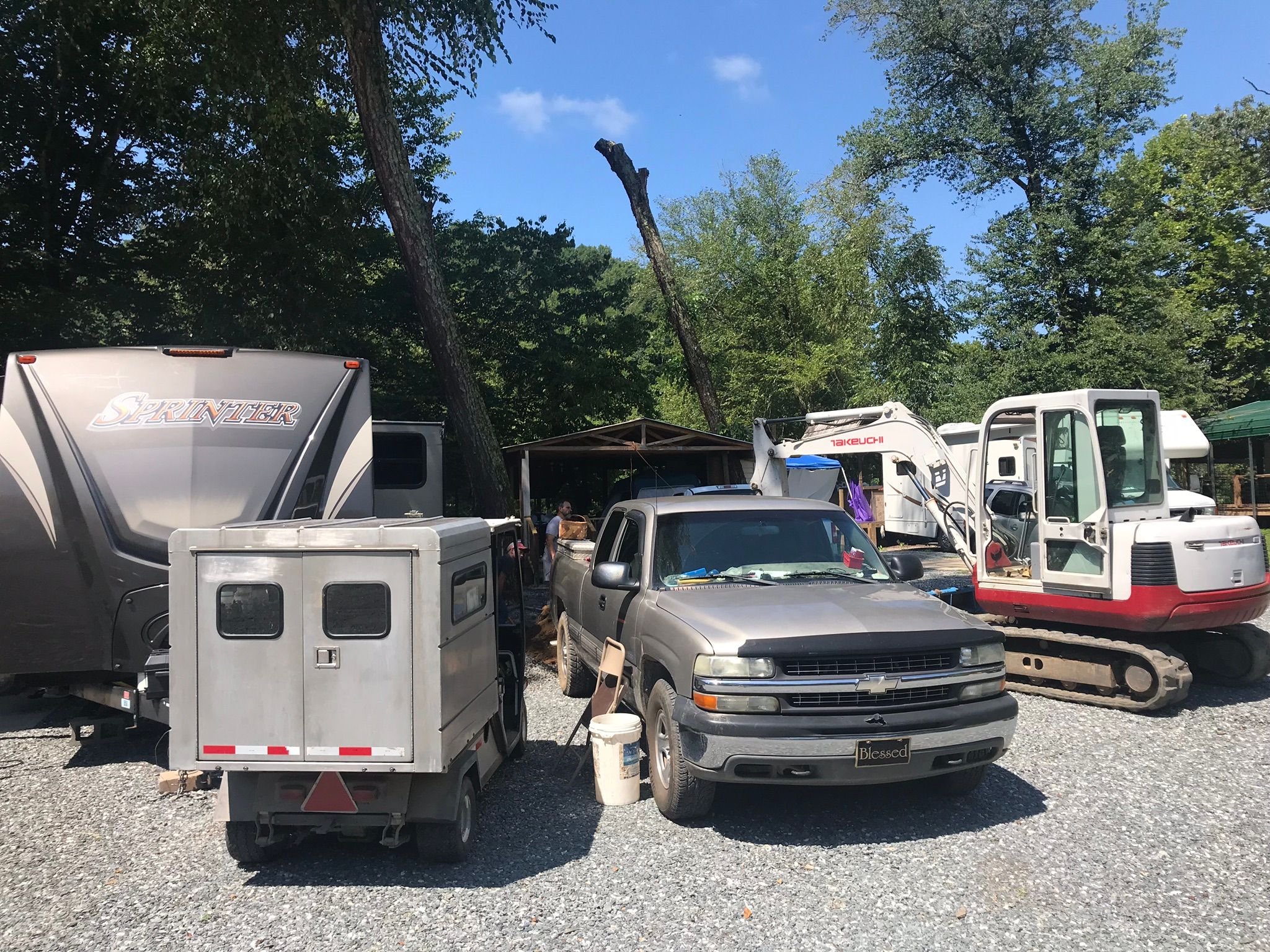 Needless to say, we got in Ole Bessie and left.  We had to get out of there. Besides, we had a big day planned. It was supposed to go like this:
1. Newfound Gap
2. Appalachian Trail HIke
3. Clingman's Dome Hike
4. Gatlinburg
5. Pigeon Forge
6. Roller Coaster
7. Back to the Campground
8. Tubing on the water
9. Grill Out
10. Go to bed.
We accomplished 7/10. I will say, this was an enjoyable day. Well, Most of it.  Ill let the pictures tell much of the story. We enjoyed a quick hike into the Appalachian Trail as well as traveling up to Clingman's dome, etc. The drive itself through Newfound Gap into Gatlinburg was just amazing.  We saw a bear, Elk, beautiful scenery that even pictures can't describe. My favorite quote...(as I tried to get Ethan to take a picture as we were traveling up the mountains to Newfound Gap) "Sorry, I Cant take a picture because its too beautiful to look away". Those were his exact words. And for a few moments, all was right in my world. I had accomplished at least one really good thing that day.  I even typed that one comment into the notepad on my phone, so I would remember it.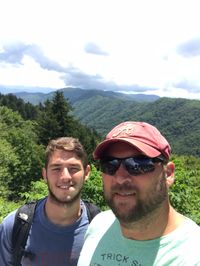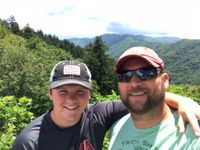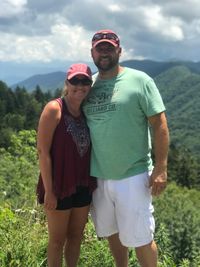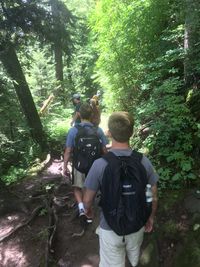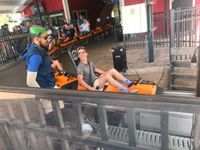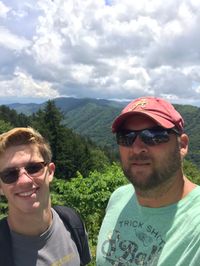 We made it back that evening to our campsite from a full days adventure into the most beautiful parts of the South and discovered that the crews had dispersed, and the 6 foot grave had been drained of its nasty 15 year old contents and covered back up. By this time, were all sick of each other. Being crammed in a truck all day traveling and doing activities can truly test how much you really want to be around someone. And with that, we parked the truck and all five of us migrated away from each other for a little while to do our own things.
My thing? Well. I decided I wanted to  tube down the river that flowed just at our own backdoor. because, I had yet to do it.  The campground offers tubing but no shuttle service, so you have to figure that one out on your own. Somehow, I managed to recruit Captain Augusta and Ethan to join me.  I think she wanted to somewhat redeem herself.  But soon after we made it to the put-in location, I realized that the inner tube wasnt quite as "big ass" friendly as the previous day's tube. There was no hole for my butt to sit though. It was an basically a donut with a layer of plastic covering the hole. For me, this was extremely unfortunate and impossible. Leaning back to paddle while sitting would have been a guaranteed 100% Robert Abernathy back flip into the water. So I had to resort to laying on my stomach on this tube. I notice a gleam in Captain Augustas Eyes as we both now realize---I am the one who now has navigation issues. Karma. Its about to bite.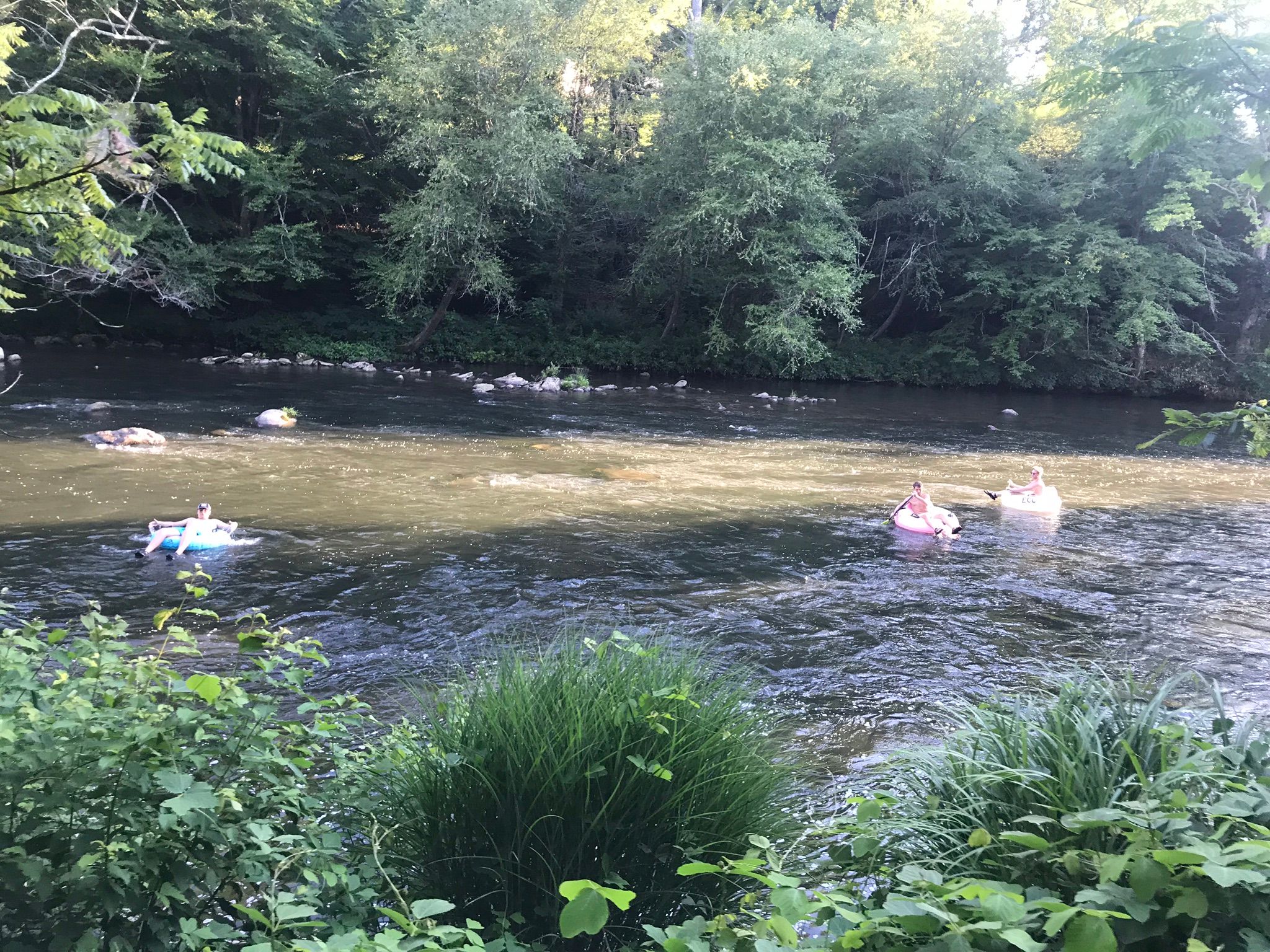 The 3 of us manage to get into the water. And make our way downstream toward the our campsite.  There were boulders, but Captain Augusta stayed clear.  As we passed our campsite toward the takeout, Ethan and I decided we wanted to take a journey into the unknown, downstream and have Augusta get out of the water (she volunteered) and hike back to our campsite, retrieve Ole Bessie and go pick us up a half mile downstream somewhere near a fishing spot we had found the day before. 
Bad Idea. 
We had no idea where this river would take us on our way to the spot where Augusta would retrieve us. I couldnt steer at all and we could see some swift water ahead as the river suddenly made a sharp turn.  As the current carried us, we rounded and island and noticed the parking lot on the right where we had fished a few days earlier.  Only, the current by this time had picked up speed and we were too far down stream. Ethan and I quickly realized there was a sssmaalllll window of opportunity to get to the bank and up to the parking lot....and we missed it.
Now, keep in mind, I am face down on an inner tube trying like hell to kick and swim and I am getting nowhere. Ethan has already made it close enough to the bank that he is out of the current and heading to the shore. Me? Meanwhile, Im starting to lose the battle. Fast. The current is pulling me away from my destination, and now the only thing left to do is make one more violent flurry of kicking and swimming before I am washed downstream to the great unknown. By this time Augusta had arrived and was watching my panicked state from the comfort of the truck. She could see it all, and I was just kicking in place. Ethan had made it to shore and was prepared to save me. But not Captain Augusta. Nope. Not her. Sitting up there all perched up in her pretty little Captain Augusta Driver's Seat of the truck, watching me flail around like a helpless dog tossed into a whirlpool. I finally found enough adrenaline to make it to a branch laying near the bank to pull me to shore. Nope. Just a loose, floating log floating there waiting on me to grab it and laugh back at me. I cursed the useless log in my hands and tried to get back to shore once again. Nope. Back out into the current. This pattern repeated itself...oh I dont know...3 or 4 more times. Ethan, at this point, sees his clumsy helpless dad out there laying flat across a big inner tube kicking around is determined to save me. Meanwhile, Augusta looks on. Im back to swatting the water and finally make it to a concrete something---I dont know what it was, but it was enough  for me to stand on something solid. Yep.  NOPE. I slipped on the slime that had build up and NAILED it with my knee. It hurt so bad. 
Meanwhile Captain Augusta is still perched atop Ole Bessie, with little $ht eating grin and her evil little laugh watching me fail at making it to shore. Ethan finally saves me and I limped into the truck, bleeding and broken, hurting all over Meanwhile. Augusta just smiles. And we headed back to the Campground.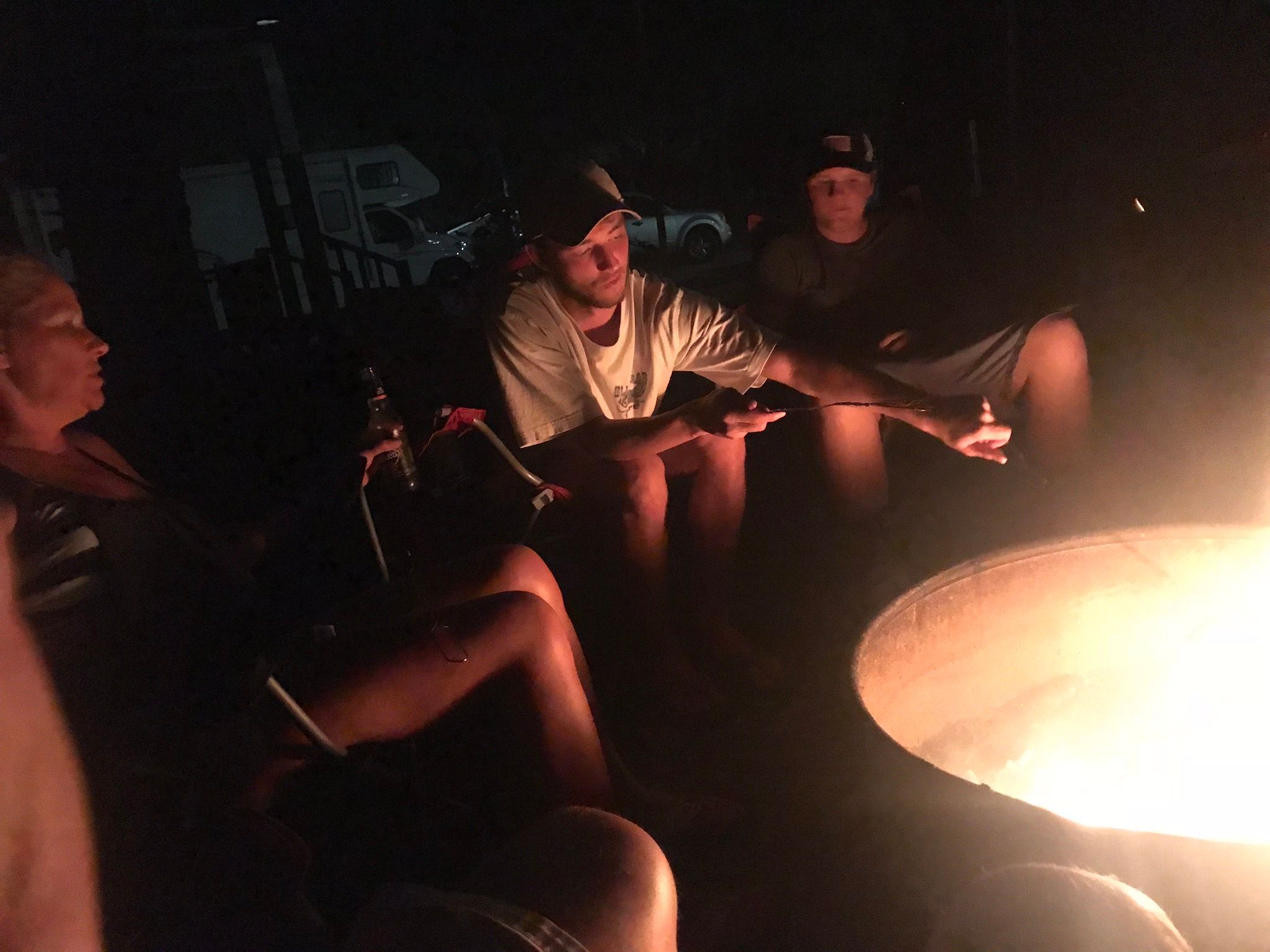 Well, I noticed it before we left, but I really didnt want to say anything, but our camper's lights were dimming. And they were dimming fast. They shouldnt have been, because it was plugged in. Which could only mean one thing: the converter that was charging our battery was dying. By the time we got done with dinner and a campfire we could all tell, power was slipping away from our camper. The refrigerator began to go first. Then the air. One by one, we were losing everything that depended on battery power to operate. Of course, the boys at this point were like "this cant be happening" and Augusta is looking at me as if I had intentionally pulled a plug somewhere.  I managed to put a charger on the battery, enough to continue to give us some power though the night (the battery powers the small things that control the big things in the camper).  I knew what was likely about to happen though. We were going to have to dial that stupid 1 800 Abernathy Emergency Hotline again in the morning.  
Thursday, July 26th. The Camper is Dying, Captain Augusta the Signal Caller
We were awakened by a screaming gas/propane alarm. We aired everything out, opened windows and managed to escape in one piece. Apparently, since the battery died overnight, it was no longer powering the thing that powers the gas igniter. I know. That doesnt make the least bit of sense. Im just repeating what the RV service guy told me when we arrived later that morning to see about fixing our dying camper.  We gave them our sad story about the woes of our journey, hoping for a bit of sympathy.  He was friendly. Laughed a little. But I could see right away that there was no charity in his voice. He was a business man. He did things right. He didnt cut corners and you get what you pay for. And for us, that was going to be the tune of about $693.27. It needed a power converter (Only the American made converters) and wouldnt you know, we also needed a new battery too. So. for the second time on our trip, we had to find an RV emergency repair service to come to the campground and fix a problem. If you are keeping score, we have now spent about $1000 on RV repairs since we were in Savannah, Georgia.  This was just becoming absurd.
11:00 We left to go Whitewater Rafting on the Nantahala River. I had been on this river several times over the course of the past 30 years or so. I had also guided several groups in those rafts, so I felt pretty confident that I could steer us though the rapids pretty well. And... save us another $100. But, as you could imagine, the other 4 folks getting into a raft with me, well, they weren't quite as confident.  I could feel their apprehension, not just of the river, but of their Griswold guide. 
Let me try to paint this picture for you. Augusta, who was once a fearless inner tube floatress, is now sweating out of every pore thinking about this river that lies ahead. And as we sit though the video orientation of how to behave in our rafts and how to survive if you fall out and how to swim out to shore... all of this is like Red Flag Central to her. Its telling her to not get in that raft. Especially with Mr. Abernathy calling out the commands at the rear of the boat. She is so apprehensive, I am afraid she is going to bail on us. Blake, Ethan and Alex are all just as eager as they can be to get into this raft and go.
We took the shuttle bus 8 miles though the Nantahala Gorge on our way to the put in. As we selected our raft and placed it in the water, I began to instruct them on simple commands like "All forward two strokes!" and "Right forward three strokes" and "Reverse!".  We practiced it in the calm waters and began to head out. Now, I knew the river fairly well---enough to steer us in the right spots if everyone did their job.  Its not a particularly dangerous river in terms of a series of class III and Class IV rapids. But with the Great Innertube Disaster of 2018 still fresh on Augusta's mind, and watching her husband nearly drown trying to get to shore the day before, the Nantahala was certainly the beginning of the end. This was the Titanic. This was not going to be pleasant.
We followed the other rafts in our group, the ones with "real" guides, to make sure we stayed out of harms way. But as we pressed forward, I began to realize we had three paddlers, one guide and one.....
....CHAMPION ECHOING SIGNAL CALLER---Captain Augusta. Every time I would say "all forward two strokes", she would spit out the same repeating command to all in the raft with MUCH MORE...intensity. Example:
Robert:  "All forward three strok..."
Captain Augusta: "THREE STROKES. THREE STROKES!!"
Robert: "ok folks (In a mellow happy guide voice) Lets go right forward two str...."
Captain Augusta: "RIGHT TWO STROKES!!"
This pattern was echoed throughout the 3 hour journey. I could have said anything. Anything at all. And she was going to repeat it. I could have yelled "Everybody Stand up and jump the F*** out!" and sure enough, she would have yelled it and jumped. All by herself. Right into the water. And then been like "wait. what just happened?" 
We made it through the 8 mile course all the way to the last rapid and had time to get out and look at it before we went down.  It was only a class III, but during orientation, they made it sound like there was going to be a 30 ft waterfall at the end of our journey. They also told us we had the option to get out and walk back to the NOC if we didn't want to chance it. Surprisingly, my #1 signal caller decided to ride it out and we made it not problem.  In fact it was a pretty quick, smooth rapid that was very enjoyable. You can see us on that rapid in the pictures. It captured all of our emotions pretty accurately. I wish the photographer had kept snapping pictures though. We were so happy that we all survived that we stopped paying attention to where we were going and ended up stranded on a giant boulder.  It took us a while to get loose, but we finally made it to shore---all in one piece.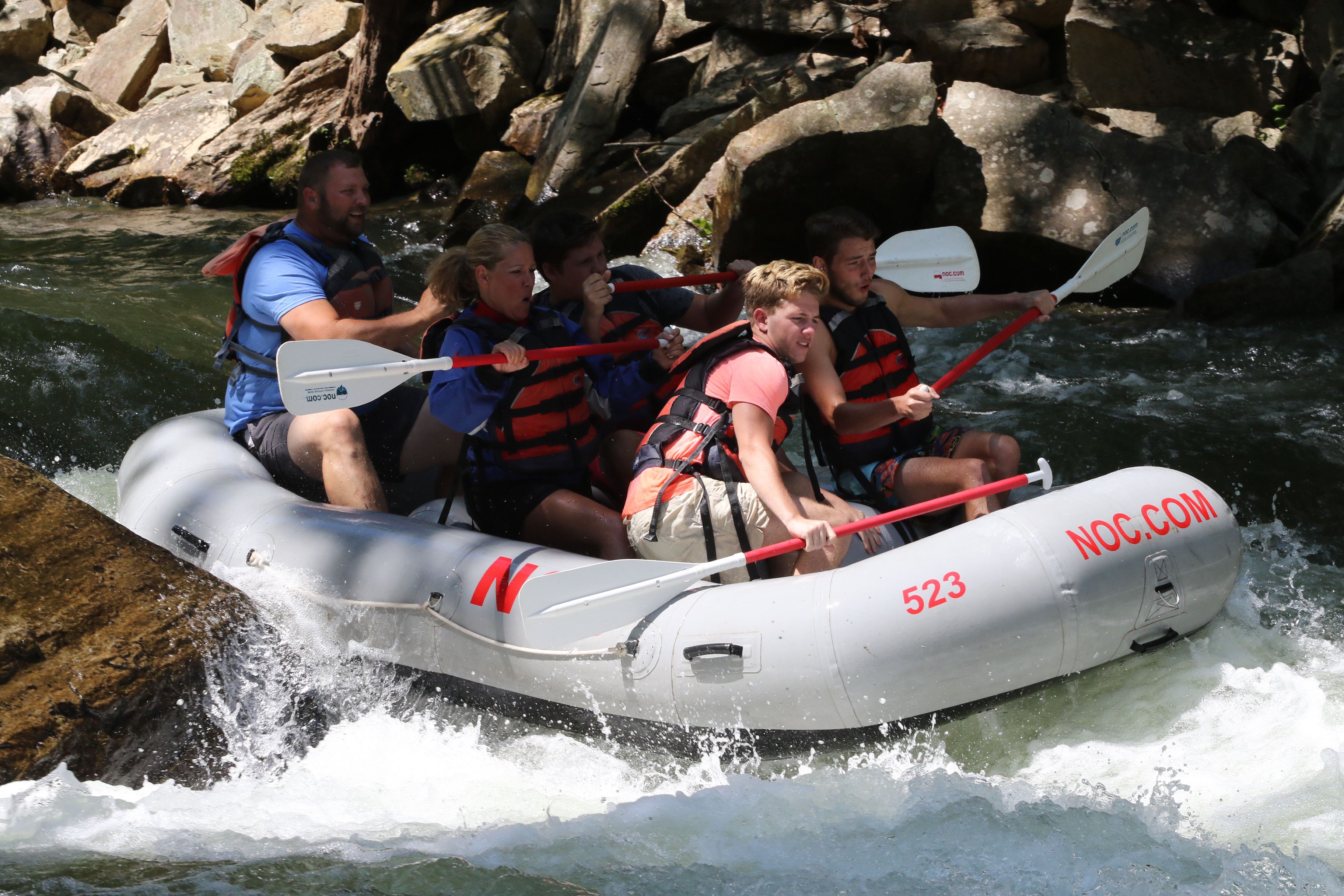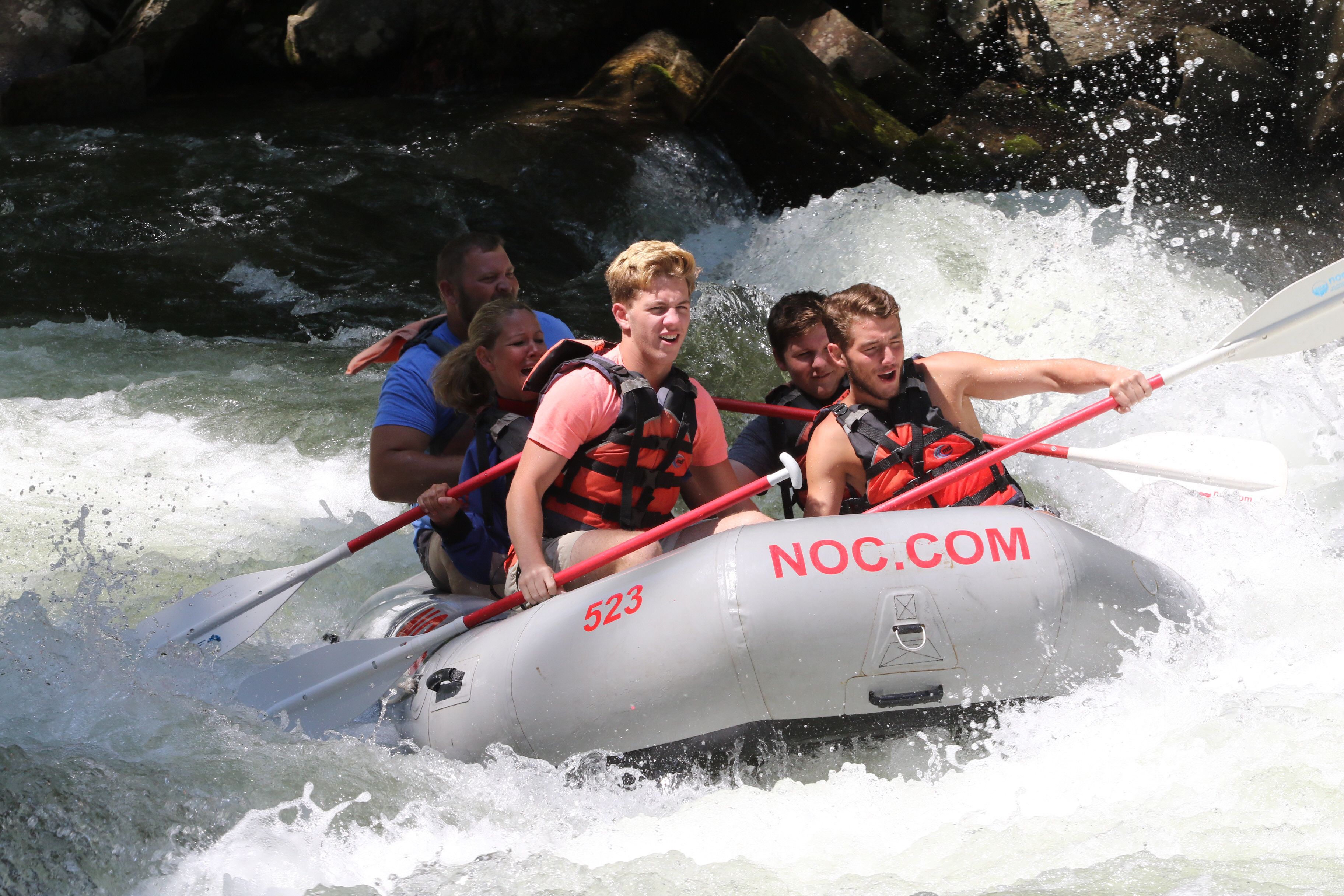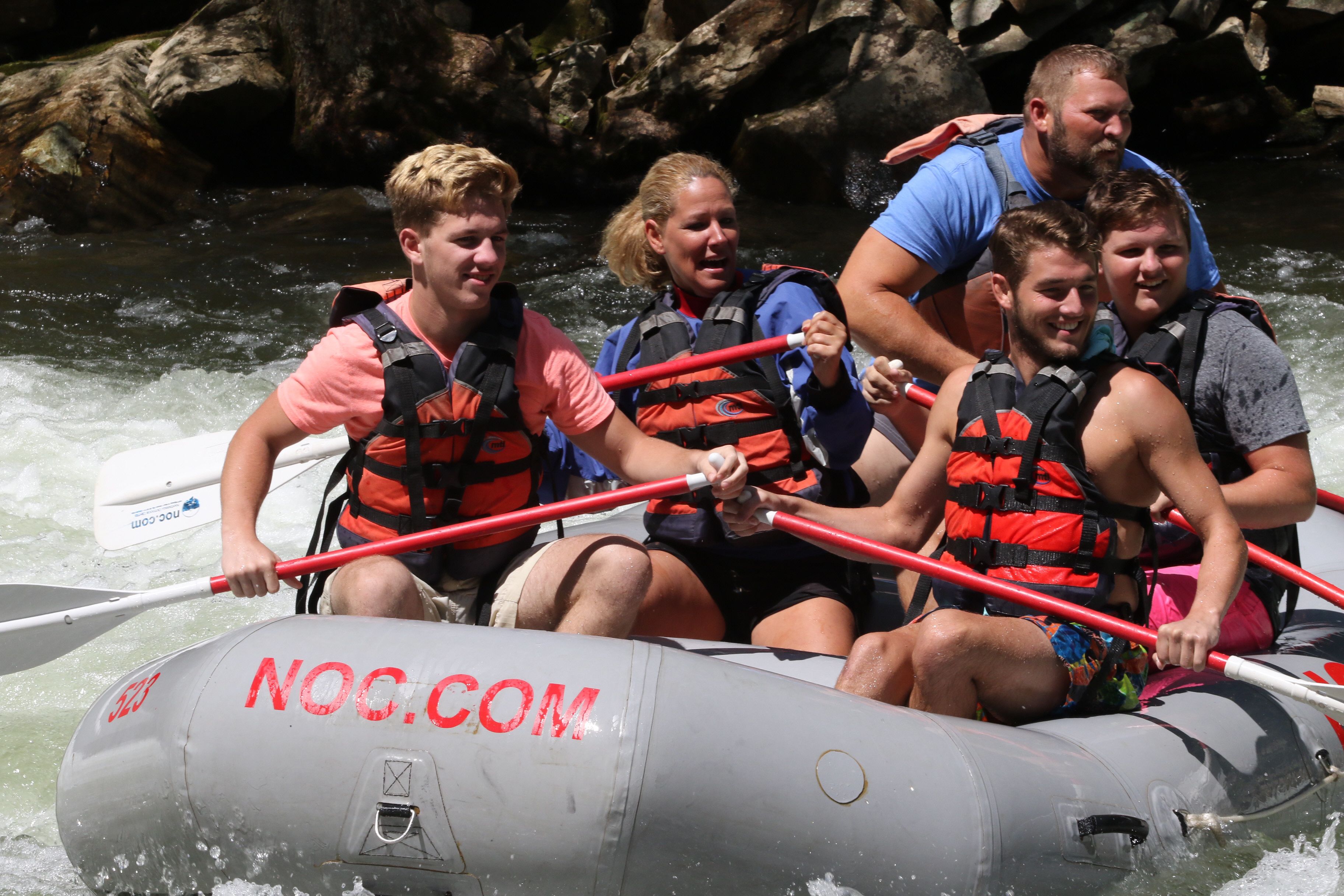 Note: Click HERE FOR PART III. July 27th and 28th: The final leg of our adventure. Ole Bessie Finally says "Enough is enough".