"Got Nothin' on You" Written by Robert Abernathy.  Release scheduled 1/28/2019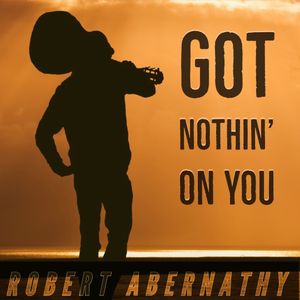 Not every song transitions from a general idea to a finished product as easy as many people think.  They can rarely be a simple as an hour from start to finish or, like "Got Nothin' on You", can be are a culmination of ideas, scribblings, collaborations that are two years in the making. Yes, this song took me two years to finish.  Not that I breathed over it daily, but the idea to "Got Nothin' on You" was one that I believed in from the start. I poured lots of time in this baby. Fortunately, I documented its changes along the way. And for no reason other than I just find it fascinating to go back and see how it has changed, I would love to share it with you.
I was on my way back from playing a show in Indiana back in May of 2017 and I found myself humming a melody, as I do many times on long trips. My voice recorder is FILLED with song hooks phrases, melodies, beats and thoughts that have originated from the drivers seat of my vehicle on similar trips. Some are incredibly amusing. They are mumblings, off-key notes with phrases that don't make a bit of sense and many times just vocal junk. But in May of 2017 the thought of "She Ain't Got Nothin' on You" just sounded like a hook people can relate to. 
So. I began this little thought process and hummed (including an imaginary guitar part) my idea into my phone's voice recorder. Version 1 HERE 
Note: Don't make fun. I was doing 80 mph somewhere in Northwest Tennessee doing my best to make guitar sounds as I heard them in my head. 
I tabled this song for a while (almost a year)  and revisited it HERE-VERSION 2 in April 2018. Note the addition of actual words. The melody was not exactly what I had sung in the car and the lyrics I ended up scrapping for the most part. But the idea began to have some roots. 
In Nov 2018, I dug it back out of the archives and began to toy around with it some more. I wanted to give it a bit of an upgrade with the melody to make it a little more catchy. So. I proceeded to fumble my way though a few different ideas and migrated toward THIS ONE--VERSION 3.
By December, I had fine tuned a few of the lyrical issues I had with the second verse and proceeded to create a video of VERSION 4 Below.
I realized I had a melody that was catchy enough to make a full length recording
 I took this to Prime Cut Recording in Nashville once again with Producer Daniel Dennis in early January and we began building this song.
Drums...
Bass...
So. Here is a merged version the song in its original acoustic format and the final product. The official video is scheduled to be released Monday Jan 28th, 2019.
And you can hear the entire finished version of "Got Nothin' on You" Here!